Show Me the Honey
If it was good enough for Winnie the Pooh, it's good enough for us! (And every other person who needs that extra and natural sweetness!) When you hear all about it, you'll be happy dancing like Pooh bear too!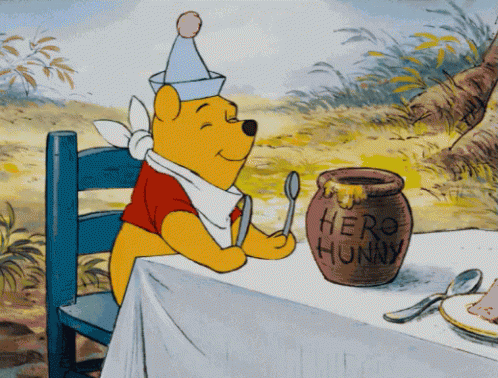 Gif from Tenor
One of the great things about raw honey is that there's nothing artificial about it. It starts when bees collect flower nectar and bring it back to their hives. There, it's broken down into simple sugars and stored in the honeycomb. The way the honeycombs are shaped together plus the constant fanning of the bees wings creates the sticky glorious substance that we know as honey.
Here are a few reasons we love it as a skin care add on: 
Pure honey is a bacteria balancer, making it extremely helpful when treating acne. Antibacterial properties and low pH in the honey give an extra boost to our skin cells, which makes the healing process of acne, infections, and wounds much faster. 
Over time, honey also crystalizes and forms small granules. However, the granules start to break from the water in the shower plus our natural body heat (not to mention the heat from the friction when rubbing it onto our skin). This makes it a natural yet super gentle exfoliator. Since it's already an effective acne buster, the exfoliating properties makes room for revealing even better and healthier skin. 
It also contains natural skin lightening agents (like hydrogen peroxide), which supports the healing of those stubborn acne scars and even discoloration caused by hyperpigmentation. 
To maximize the effects of this great ingredient, we've taken the liberty of adding it to one of Bare Necessities staple soap bars.

Meet: ✩
The oats, goat's milk, and honey soap bar
! ✩

Not just a delicious breakfast combo, but deliciously healthy for your skin too. This soap contains our staple of goats milk to repair and moisturize skin so you leave the shower with extra soft and smooth skin. We've combined this with honey and oatmeal to supplement acne healing, relieving skin irritations, as well as absorbing extra oil and even unwanted odors.
Honestly, we think our dear Winnie the Pooh secretly knew that stuffing his face with honey was one of the things that kept his skin glowing all the time because of all the benefits that comes with adding it to our skin care routine. 
Visit our shop by clicking below and get your own super soap bar of oats, goat's milk, and honey while stocks last!
 This week's top stories 
Now while we do acknowledge that wine is a very important byproduct of grapes, another important ingredient we get from it is grapeseed oil...At Bare Necessities MNL, we take advantage of this powerful oil by adding it to products to help maximize its effectiveness on our skin.
 Sources: 
https://www.womenshealthmag.com/beauty/a19946109/beauty-uses-for-honey/
https://www.honey.com/about-honey/how-honey-is-made 
https://www.womenshealthmag.com/beauty/a19946109/beauty-uses-for-honey/
https://www.stylecraze.com/articles/honey-to-get-glowing-skin/ 
https://www.byrdie.com/honey-on-face
https://www.leaf.tv/articles/what-are-the-benefits-of-oatmeal-in-soap/
https://www.stylecraze.com/articles/benefits-of-oatmeal-soap/